News ReleaseFOR IMMEDIATE RELEASE
FOR MORE INFORMATION, CONTACT: 

Jesse Ambrogi-Yanson
White Cloud Communication
Jesse@whitecloudcommunication.com
Phone: 585-752-7027
Ski.com Names the Best Week of the Year for a Ski Vacation in 2017
Lower costs, lighter crowds and great conditions make January 9-14, 2017 the best week of the year to get away
Aspen, Colo. – Nov. 22, 2016 – Take the guesswork out of ski vacation planning this winter. Ski.com, the industry leader in providing and booking global mountain vacation packages, names January 9-14, 2017 the best week of the 2016-17 winter season to go on a ski or snowboard vacation. As the largest supplier of ski vacation packages and bookings in North America, Ski.com used weather information and analyzed cost and arrival data of more than 25,000 recent reservations to pinpoint the best time to take a low-cost, crowd-free and powder-filled ski vacation.
"Resort travelers with flexible schedules consider price, crowds and snow conditions as top factors when planning the perfect ski vacation," said Dan Sherman, vice president of marketing at Ski.com. "While the absolute best pricing and least crowded resorts can be found in early December and late April when conditions are less predictable, we found the second week of January to be the perfect time for those who want the best possible combination of all three factors."
By traveling January 9-14, 2017, skiers can save up to 45 percent at popular resorts including Aspen, Jackson Hole and Beaver Creek compared to the December holidays, spring break or Presidents Day week. For example, a five-night ski vacation for four people at Beaver Creek during the recommended time period costs $1,674 per person for lift tickets and accommodation in a two-bedroom condo at the Elkhorn Lodge. In comparison, the same trip at Christmas would cost $3,049 per person. A five-night ski trip for two to Telluride during January 9-14, 2017 costs $1,154 per person for a hotel room at Hotel Columbia and lift tickets. That same trip during a popular spring break week in March costs $1,889 per person.
Ski.com also recommends the second week in January due to a noticeable dip in arrivals during the mid-winter season (see graph). Although arrival data in early and late season are low as well, these times do not often correlate to optimal snow and terrain conditions. Arrivals for January 9-14, 2017 are half of what the company is seeing during Christmas week and on average 44 percent lower than any week in February. By traveling during this week, skiers can enjoy resorts like the locals do, without the crowds and lift lines that can be common during the busiest times of the winter season.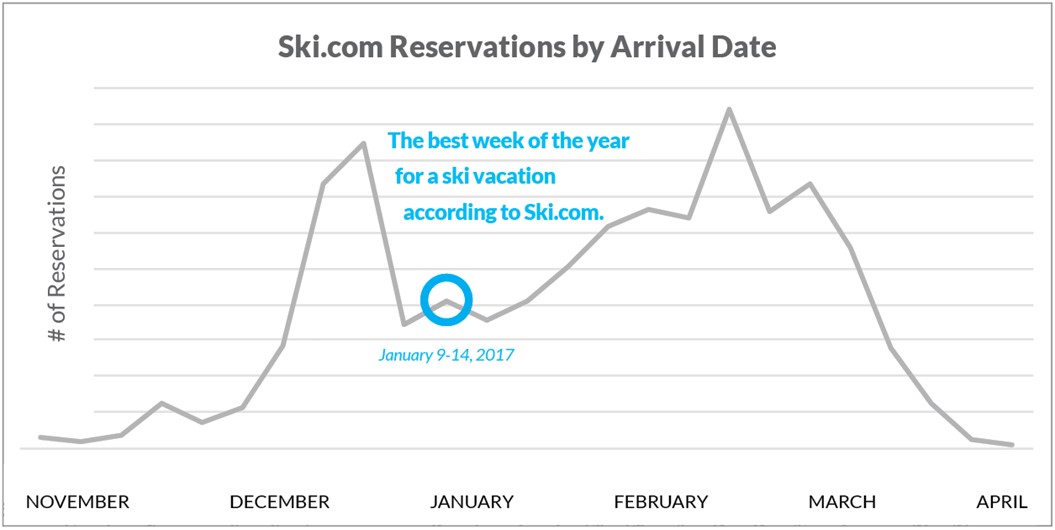 To gain input on when to find great snow conditions, the final criterion for the best ski week, Ski.com turned to meteorologist and trusted snow forecaster for leading snow forecasting site OpenSnow, Joel Gratz.
"Early January is often a great time to ski because most resorts have had time to build up their base depths to levels that are usually above average for the season and open the majority of their terrain, if not all of it," said Gratz. "By early January, the risk of limited terrain openings is diminished."
If you're interested in learning more, visit Ski.com or call 800-916-9463 to speak to a Mountain Vacation Specialist.
About Ski.com
Founded in 1971 in the heart of Colorado ski country, Aspen-headquartered Ski.com is North America's largest provider of mountain vacation packages and an industry leader in online travel technology. The company specializes in booking custom ski vacations at more than 120 of the most popular ski resorts and heli- and cat-skiing destinations in North America, Europe, Japan and South America and offers the largest collection of mountain lodging and ski-vacation components, including discounted lift tickets, flights, equipment rental, ski school, activities and more. Providing unsurpassed mountain-travel expertise, Ski.com's 70+ Mountain Vacation Specialists average 28 years of experience in the ski travel industry.